---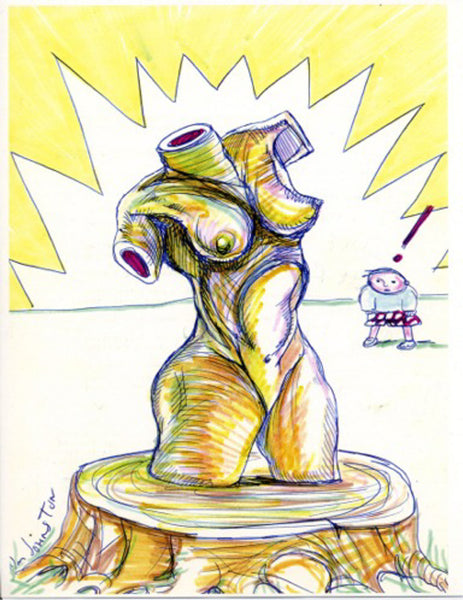 Daniel Johnston "Golden Idol" Limited Edition Hand Signed Print, 2017
Regular price $550.00
Daniel D. Johnston (1961-2019) was an American singer, songwriter, musician, and artist. Johnston was the subject of the 2006 documentary "The Devil and Daniel Johnston". He lived in Waller, Texas.
Documentary: https://www.youtube.com/watch?v=wJZOe65eA4Y
As with other talented but troubled artists such as Syd Barrett, Brian Wilson, and Kurt Cobain, Daniel Johnston fought a daily battle with the chronic mental illness that plagued him nearly his entire life. However, despite suffering from bipolar disorder, Johnston carved out a respectable, influential career as a singer/songwriter and visual artist of extraordinary talent. Which grew since his first crudely recorded cassette was released in 1980. 
His music has been covered by artists such as Lana Del Ray, Nick Cave, Beach House, Beck, and Wilco. And his artwork has been featured in countless galleries and museums around the world. 
Questions about this piece? Contact us at info@fifteengallery.com
Details: "Golden Idol" 2017
Signed / numbered
Original Daniel Johnston drawing dated early 80s printed on card stock 2017
Image dimensions: 11 x 8.5 in (27.94 x 21.59 cm)
Numbered: 38/100
Certified on the back
Hand signed in ink by artist 
Excellent condition